Swifts arrived in St John's 2016 Cranes of Peace Summer 2017
St John the Baptist (St John's) is open from 9am to 4pm every day in the Summer hours and open till 1pm in the short Winter hours. For booking concerts, seminars or any other event please contact the churchwarden Lucy Elton 01379 851148 - welcome@7churches.org.uk - Office opening hours inside the church is Mon to Fri 9am to 1pm.
Regular Events and Groups held in St John's
Sunday Services are held at 11am
Chatty Church for children with parents/carers - 3rd Satuday of the month at 2pm video
Informal Singing every Tuesday 11am to 12pm
Prayers every Tuesday 9.30am to 10.00am
Tueday Time Together Coffee Mornings, every Tuesday 10.30am to 12 noon
Foodbank Distribution every Tuesday 1pm to 2.30pm
Teaching Tuesday is on every first Tuesday at 1.45pm with Revd Tim Rogers.
Light lunches on every 3rd Tuesday (£5pp)12noon to 1.30pm
Holy Communion (Short Said) every Thursday at 10.00am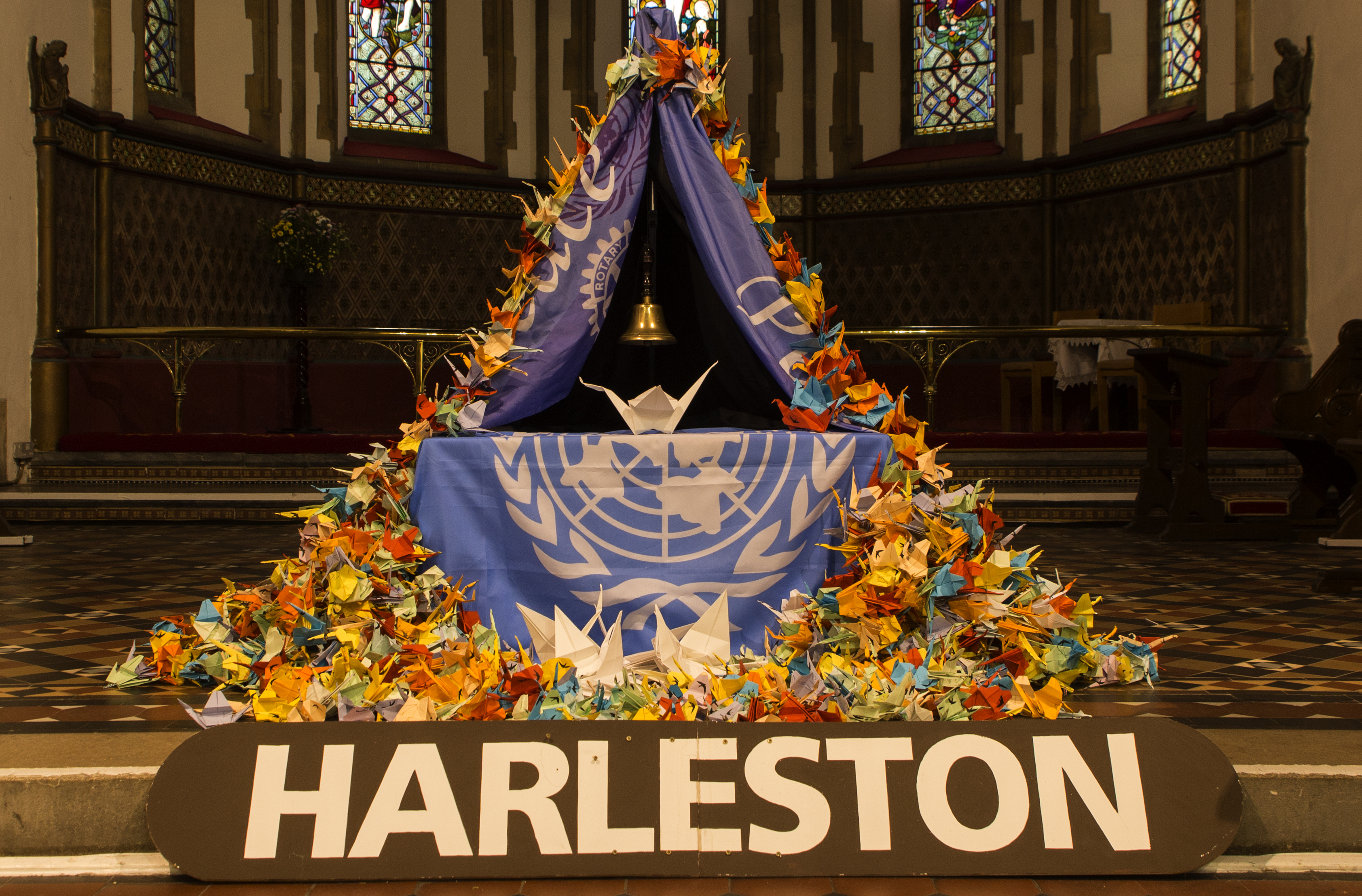 After their summer-long flight in the roof of St John's Church Haleston's 1000 origami cranes have landed in time for a short ceremony at midday on International Day of Peace (21 September). Over the last week their wing-tips have been taken symbolically to the United Nation in New York and to Ground Zero and are expected back for the ceremony.
The ring of the Town Crier's Bell will be dedicated to peace, so our message of hope for peace today, can echo across the generations and down the years.
Hundreds of the origami cranes carry a message of peace from children and students in Alburgh, Denton, Pulham and Harleston schools as a well as a community message linking our swifts - emblems of free-sprit for people and wildlife -, with cranes and peace - all of which know no boundaries.

To keep our ministry ongoing in our community you can help by donating by
Text to
70070 making sure you type in the code MSMY01 and amount (£5) you want to donate.
.